Rental Or Sales Contract:
These terms and conditions form part of a rental or sales contract between you and Desired Effect, and apply to all the equipment and supplies rented or purchased by you. These terms and conditions constitute additional provisions of and guides to interpretation of the rental contract. In the event of a conflict between these terms and conditions and the rental contract, the terms of the rental contract shall prevail. All terms and conditions are subject to change without notice.
Pricing, Payment Terms & Credit:
Terms of Payment are based upon credit information you supply prior to rental or purchase. Rentals or sales are Cash On Delivery unless credit is approved in advance by Desired Effect. Upon credit approval, invoices are payable not later than net 30 days. A finance charge of 5.5% per month may be added to invoices unpaid after 30 days.
Rental Period:
Rental prices are based on three-day rental. Equipment may be picked up the day prior to rental day(s) after 3 pm. Equipment must be returned the day following rental day(s) by 10 am to avoid additional charges, unless agreed upon in writing.
Cancellation Penalties:
Orders canceled less than 96 hours in advance of rental are subject to a cancellation charge of up to $100 or 25% of rental cost (whichever is greater).
Rental Charges On Damaged Equipment:
The lease period will be extended by the shortest reasonable time necessary to repair such damage or replace non-repairable equipment and return the item(s) to Desired Effect.
Deposits:
A deposit may be required on all rentals. Deposits must be paid at the time of equipment issue. A $50.00 deposit will be required on all rental amounts from $0.00 to $25.00. A $100.00 deposit will be required on all rental amounts from $25.00 to $100.00. Deposits on orders totaling over $100 will be individually determined.
You Must Insure All The Equipment:
You shall at your expense, and at all times during the rental, maintain in full force and effect insurance covering all equipment rented, from all sources, for full replacement cost, except vehicles which are at actual cash value, and for the loss of use (rents) of the equipment. Coverage must begin from the time you or your agents accept delivery of the equipment and continue until the time the equipment is returned. Proof of insurance must be furnished to Desired Effect prior to taking possession of the equipment. The Certificate must be satisfactory to Desired Effect and cover appropriate Liability Coverage, Property Coverage and Workers Compensation Insurance. Desired Effect must be named as Additional Insured and Additional Loss Payee. You agree to hold Desired Effect, it agents, owners and employees harmless in all actions resulting from misuse or failure of equipment, including but not limited to: loss of equipment or injury or death of personnel.
Equipment Damaged Or Destroyed Loss & Damages:
Upon return of the damaged equipment, Desired Effect will determine the extent of the damage and required repairs. You and /or your representative(s), will have a reasonable amount of time to inspect the damage. In determining whether the equipment should be replaced or repaired, Desired Effect's judgment shall be conclusive upon you. Should Desired Effect determine that the equipment should be replaced, you will be responsible for the cost to replace the same item or the closest comparably equipped model, at the current retail prices less any discounts available, without deduction for depreciation.
Lost Stolen Or Destroyed Equipment:
In the event that after delivery to you, any of the equipment is lost, stolen, damaged beyond repair, destroyed or otherwise disappears or is not returned for any reason, you will be responsible for the cost to replace the same item or the closest comparably equipped model, at the current retail prices less any discounts available, without deduction for depreciation.
Testing The Equipment:
Equipment is rented in good working order. Before taking possession, all rental equipment may be tested by you or your agent to determine that it is in good working order. Desired Effect does not guarantee, assume responsibility, or make representations of the performance of said equipment. A Desired Effect representative is on call 24 hours a day. If you require assistance outside normal business hours, every reasonable effort will be made to correct the malfunction.
Delivery And Pickup:
Equipment is rented on a pick-up and return basis from our business location. Desired Effect can provide delivery and pickup services for an additional charge. Please arrange delivery far enough in advance to allow for scheduling. Delivery charges must be paid prior to the delivery.
Your Responsibility Regarding Equipment Risks Of Loss:
You assume all responsibility for the equipment rented when it leaves our shop. Your responsibility includes, but is not limited to, risks while in transit, in use or storage at all locations named and unnamed, at all studios or while at your own location.
Local Use Only:
Local use only is permitted under this contract, unless prior consent is made in writing by Desired Effect. Renter shall provide Desired Effect with Street Address and Contact information for venue. Desired Effect may inspect, at any reasonable time(s) of it's choosing venue location.
No Sublease By You Is Permitted:
You may not sublease all or any part of the equipment without written prior consent of Desired Effect, including but not limited to any sublease to venue renters.
Alterations:
Desired Effect must approve all modifications in writing prior to rental. You may not remove, cover, or alter in any way the Serial Numbers or Logos on equipment, including but not limited to: Desired Effect Logo, Manufacturer Logo, and/or any Safety Warnings without written permission from Desired Effect.
Spare Lamps:
Desired Effect will provide a reasonable amount of spare lamps for rental fixtures on short rentals, where applicable. All spare lamps must be returned including any and all burned out lamps. You will be charged for any loss of lamps regardless of condition.
Early Return Policy:
Desired Effect does not give refunds or credit for early return of rental equipment. We suggest that you review your equipment list and rental dates carefully before signing the rental agreement.
Customer must show evidence of insurance coverage by providing a Certificate of Insurance from a qualified provider listing Desired Effect, LLC. as 'loss payee' or 'additional insured' with appropriate terms and conditions.
A valid Certificate of Insurance with the following coverage is required to qualify:
• $1,000,000 General Liability Policy with Desired Effect, LLC named as 'Additional Insured'
• $1,000,000 personal injury limits (per-occurrence) with Desired Effect, LLC named as 'Additional Insured'
This policy must remain in force for the entire length of your rental or until you return the equipment to us, whichever is later.  All insurance policies shall contain endorsements requiring the applicable insurers to send Desired Effect, LLC 30 day written notice of the cancellation or termination of any insurance policy during the term of the event.
Commercial general liability insurance shall include independent contractor and contractual liability coverage. Desired Effect, LLC shall be named an additional insured. Such insurance shall include broad-form contractual liability, personal injury liability, completed operations, and products liability, with minimum $1,000,000 general aggregate limits, minimum $1,000,000 personal injury limits (per-occurrence), and minimum $1,000,000 advertising injury limits (per-occurrence). Any such policy must expressly state that it is primary coverage as to all insureds, and that their policy limits must be paid out prior to any obligation arising under any other insurance policy, including those maintained by Lessor.
The Named Insured must match the name on the contract, regardless of company ownership.
(Example: John Doe owns companies A and B. An insurance certificate that lists company A only as the named insured will not be accepted for company B's rentals).
---
In addition, one of the following is required:
Coverage for loss or damage of "Rented Equipment In-Transit & Various Locations" with Desired Effect, LLC named as the 'Loss Payee' on the Certificate of Insurance. This coverage must be for at least the full replacement value of the equipment rented from us with a maximum deductible of $1,500.
Property coverage may come in the forms as follows: All Risk Policy, Entertainment Package, Inland Marine Coverage, Hired In Equipment, Business Personal Property of Others, Third Party Property, Rented Production Equipment or Rented/Leased Equipment.
The "Unattended Vehicle Theft Exclusion" will not be accepted. Confirm with your insurance provider that you will be covered in the event that equipment is lost, stolen, or damaged while in an unattended vehicle. Certificate must include the coverage limits and deductible for rented equipment.
Damage waiver purchased from Desired Effect for unintentional damage to the rented equipment during the rental period. The determination of whether damage is unintentional and not abuse is at the sole discretion of Desired Effect. In the event of damage covered by a damage waiver, the client will pay Desired Effect a deductible amounting to 20% of the value of an item in similar condition to the equipment rented. A damage waiver does not cover lost or stolen items, nor does a damage waiver cover water damage, as that is considered to fall under the category of client negligence.
Please have your insurance broker send a copy of the certificate to:
insurance@Desired-Effect.com
ATTN: Risk Management
1948 Oak Park Blvd
Pleasant Hill, CA 94523
Example Acord form: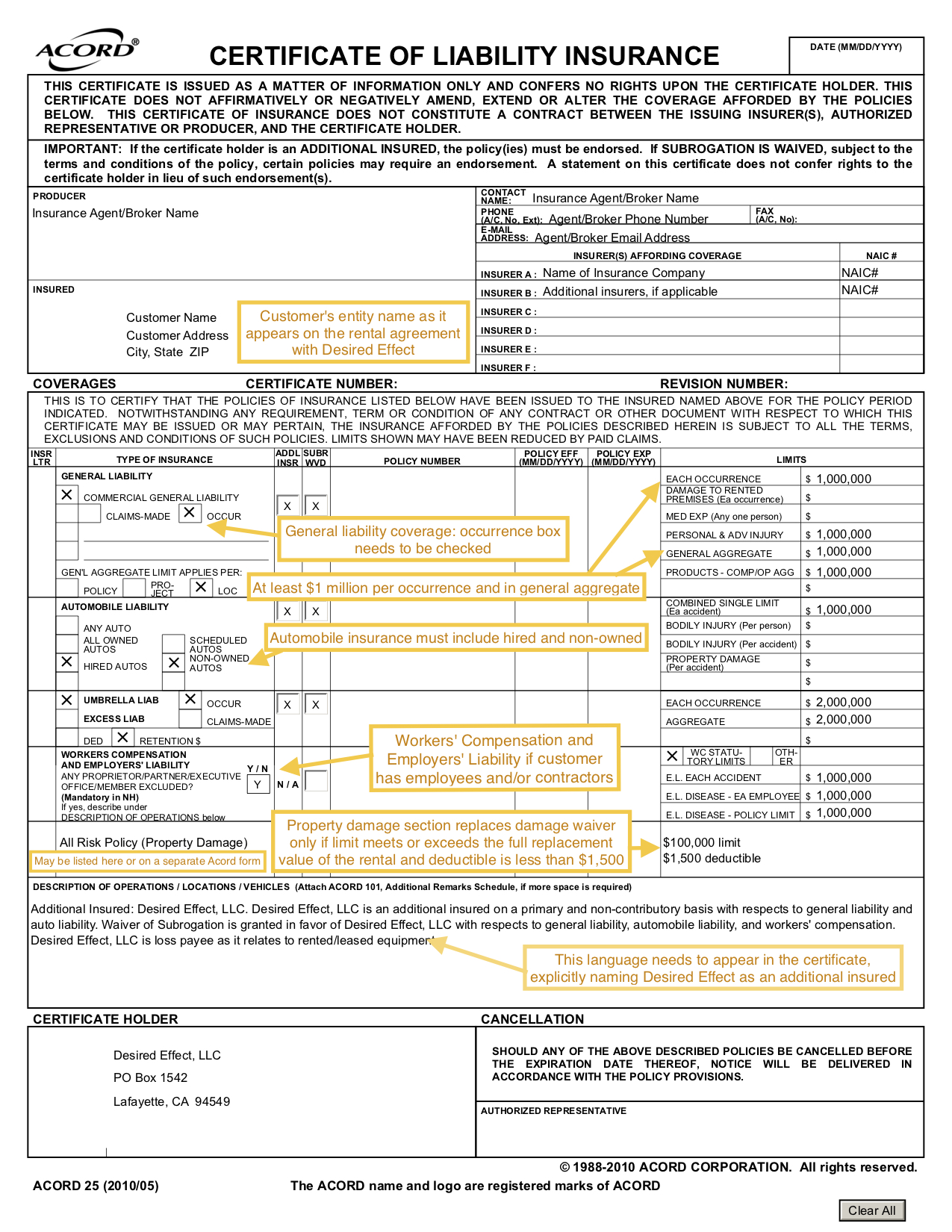 Some of our clients have questions about the taxes they're charged on different types of orders. Because of different California and federal tax rules regarding sales, rentals, and labor, you might find yourself in one of the following situations.
Why was I not charged tax on my rental?
Desired Effect pays sales taxes upfront on the things you rent, which means you don't have to pay sales tax to rent them!
This is in part because of a tax policy called 'use tax,' which allows us to pre-pay sales tax on our inventory once and save you the tax down the road every time you rent from us. Not every rental company does this, which is why you might see sales tax charges on your invoice from other companies and not on invoices from Desired Effect.
The following articles from the California tax administration office contain more information about use tax, sales tax, and how they apply to you when you rent from Desired Effect:
Publication 46 (explains Regulation 1660)
Why was I not charged tax on labor?
In accordance with applicable sales tax laws, Desired Effect does not charge sales taxes on labor.
This includes things such as event staffing, labor when loading events in and out of a venue, and training on installs.
When do I get charged sales tax?
You'll get charged sales tax on non-rental, non-labor items, unless you are an organization which is specifically exempt from paying sales tax.
This can mean that you get charged sales tax on just part of an invoice. For example, if your invoice for an event includes a sound board rental and a mic tape purchase, the rental will not be taxed but the sale of mic tape will.